Main Content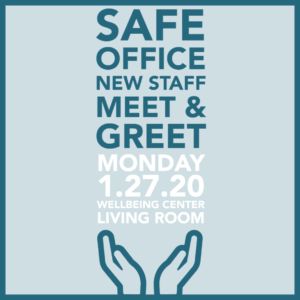 Wake Forest community members are invited to join us on Monday, January 27 at 7 p.m. in the Wake Forest Wellbeing Center Living Room for a Safe Office Meet and Greet. 
Last semester held uncertainty for many of you about the SAFE Office regarding its staff shortages. We understand and acknowledge that this situation might have been stressful. Therefore, it is with great joy that we hold this "Safe Office Meet and Greet" to introduce you to our fully-staffed Safe Office with our two new staff members and share about the future of the office. Our main priority is to continue providing a comfortable and welcoming space to those who wish to utilize it. 
An informal address to discuss future plans for the Safe Office will be given at 7:15 p.m. by Vice President of Campus Life Dr. Penny Rue, Acting Director of the University Counseling Center Dr. Dan Paredes, and Assistant Director of Specialized Services Dr. Emily Palmieri. Our two new Safe Office Counselor Advocates, Stephanie Duisterhof and Bethany Miller, in addition to our on-call counselors and key campus partners, will be introduced. his as a great opportunity for you as students to interact and build connections with our staff and student leaders. Our mission is to deliver transparency and to take actions which will provide a safe and inclusive space for our Wake Forest community.
Recent Posts
January 24, 2020

January 13, 2020

November 13, 2019