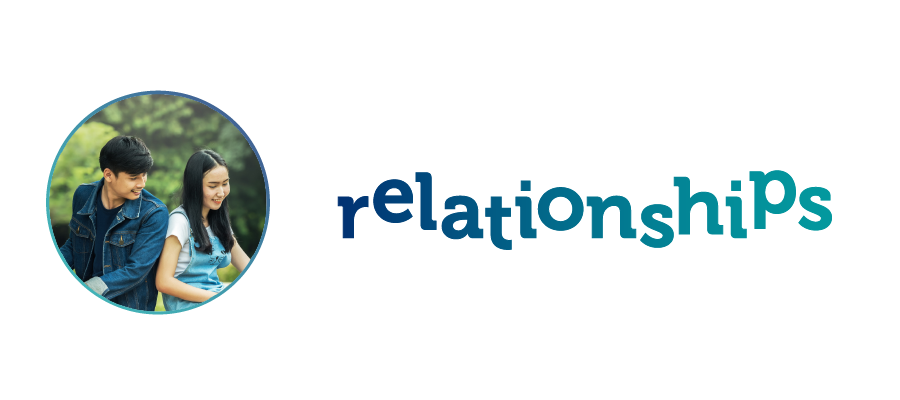 What is a healthy relationship?
Relationships can be defined in different ways depending on who all is involved, and healthy relationships can involve a few key factors: healthy communication, healthy boundaries, mutual respect, and support for one another¹. Healthy relationships make individuals involved feel good about themselves, and feel seen, safe, heard, and respected.
Questions for thinking through relationship health
Is/are my partner(s) supportive of my decisions and boundaries? Do I feel comfortable sharing my boundaries?
Do I feel my partner(s) is/are consistent in their words and actions?
Do me and my partner(s) feel comfortable spending time away from each other and having time for our own friends or activities?
Do I feel safe to be myself and express my needs and wants around my partner(s)?
The relationship spectrum
Relationships can exist on a spectrum from healthy to abusive, the relationship spectrum can be a way to think through where your relationship sits.
Examples of unhealthy or abusive behaviors
Below are some examples of behaviors that an unhealthy or abusive partner may engage in
Pressuring their partner to have access to their passwords or GPS location
Monitoring their partner's internet or phone activity
Controlling who their partner is friends with, who they talk to, or how they spend their time
Controlling how their partner spends money
Intentionally misgendering their partner or denying their identities
Belittling their partner by name calling, criticizing their interests/friends, playing off insults as jokes
Threatening to out their partner
Criticizing their partner's body
Pressuring their partner to drink or use drugs
Coercing their partner to sext or send nudes and exposing or threatening to expose private images or videos of their partner
Having extreme and unpredictable reactions to small things
Coercing their partner to engage in sexual activity
Making their partner feel guilty for things that are not their fault
Minimizing the abuse or unhealthy behaviors
What if my relationship is possibly unhealthy or abusive?
If you notice signs that a relationship you are in may be unhealthy or abusive, the Safe Office is available to confidentially discuss your situation, find support, explore options, and develop a Safety Plan, if needed.
24/7 Helpline for urgent concerns 336.758.5285
Email us for non-urgent needs at safe@wfu.edu (we will get back to you within one business day).